Rukhe Neelofar's Exhibition - (22 - 25 Feb 2018)
Invites you to
an exclusive exhibition of paintings by
RUKHE NEELOFAR
22nd - 25th February, 2018
Exhibition Opening
Thursday, 22nd February 2018
6pm - 8pm
Visit our gallery or view the virtual exhibition on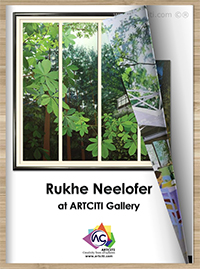 ---
Rukhe Neelofer
is an artist who has extensive teaching experience at both university and school level. She has been exhibiting her paintings in Pakistan and abroad, and worked in many countries as a resident artist, like India, USA, Italy, Turkey, Norway and Japan.
Rukhe considers developing an art curriculum for a very large school system in Pakistan as one of her biggest achievements which she feels will engage parents, thus involve them in the aesthetic endeavors that once formed an essential part of the heritage of this land.
---
ABOUT ARTCITI
Pakistan is a country effervescing with richness in art and culture. ARTCITI, a Karachi based innovative art gallery adds flavor to this wealth by expanding local creativity and taking it to a global level. As a wide platform for promoting Pakistani art, ARTCITI aims to become an art powerhouse. With a state-of-the-art gallery and an impressive online portal, it provides an abundance of art to people all around the world. ARTCITI believes in enabling visitors to experience variety while selecting pieces best suited for their taste. Hence, from the classic works of seasoned legends to contemporary forms by refreshing newcomers, ARTCITI offers something to all palates. Open to the world, ARTCITI envisions Pakistani art to reach new heights of recognition.
ARTCITI Gallery
Khayaban-e-Shujaat, Phase-VI, DHA, Karachi.
Email: info@artciti.com Web: www.artciti.com
FB: facebook.com/artcitionline
Ph: +9221-35250495, +9221-35250496
Whatsapp: +923362700975
---
Showing 1 to 3 of 3 (1 Pages)